Why You Should Choose zipDJ as Your House Music Download Resource
If you are looking for a reliable, cost-effective resource for your house music download needs, zipDJ is an excellent choice. zipDJ is one of the most advanced digital music distribution systems in the world. With its user-friendly interface and vast, up-to-date music catalog, it is a favorite of DJs from the radio, club, live-to-air, and mobile sectors.
zipDJ is designed to cater to the needs of tastemaker DJs who are in the position to break new house music. zipDJ gives high-profile DJs access to new releases weeks or months before their normal release dates, enabling them to stay ahead of the curve. zipDJ is an essential house music download resource for any DJ at the forefront of the house genre.
Hundreds of New Releases on a Monthly Basis
zipDJ puts out hundreds of new releases on a monthly basis. Serviced by over 400 independent and major record labels worldwide, zipDJ has access to house music from the top recording artists as well as up-and-coming recording artists. Membership to zipDJ is would be highly beneficial for any DJ who needs easy access to new releases, mixes, and remixes.
Easy to Use
zipDJ is a leader in the house music download genre because of its easy to use web interface that offers the perfect blend of technology and function. DJs can search and sort house music by label, artist, and song, view the details of each release with ease, and preview each release individually. Furthermore, DJs can conveniently stay informed about new releases by signing up for the zipDJ RSS feed. zipDJ's download manager enables DJs to download tracks one by one or all at once with its .zip file batch downloading feature. And with its direct downloading feature, zipDJ allows DJs to download tracks without ever having to leave they page they are on.
DJ-Friendly Features
As a popular house DJ, it's essential to keep abreast of listings in national and world charts as well as exchange information with other DJs in your field. zipDJ compiles national and world charts for house music while providing DJs with the latest industry information, allowing them to stay up-to-date with what is happening in the rapidly evolving music industry.
Moreover, zipDJ features an enhanced forum that enables DJs to post messages and share information with DJs and record labels. zipDJ also provides each member with a personal web page that serves as an effective networking and promotional tool. Essentially, zipDJ will serve as a one-stop shop for all of your DJ and house music download needs.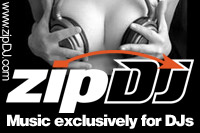 Competitive Pricing
zipDJ leads the way in competitively priced house music download services. By paying a low monthly or special package rate, members can download an unlimited quantity of house music tracks on zipDJ. The music files available on zipDJ are of very high quality; most are MP3 music files at 320 bit rate. zipDJ is also the first web-based digital music delivery service to enable users to bulk download their chosen music files in an easy zipped download. zipDJ clients also have the option of auditioning tracks prior to committing to a download.